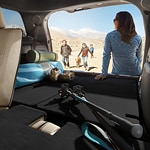 The joy of owning an SUV like the Ford Explorer is the ability to drive wherever you want. This freedom is made possible by the excellent capability features offered in the vehicle. We at Formula Ford of Rutland want you to fully understand the Explorer's new capability features that will help you safely drive anywhere.
The Ford Explorer can handle any road condition thanks to its Terrain Management System. A small dial that sits in the center console of the SUV lets you select one of seven different drive modes. The Explorer will use its intelligent four-wheel-drive system to provide extra control for the rough conditions.
Driving in Rutland, VT on a windy day will be a lot easier thanks to the Explorer's sidewind stabilization feature. The system automatically applies the brakes on one side of the vehicle after a strong gust of wind. This safely keeps the Explorer in your lane without having to fight the wheel.